In Memoriam
Ardys Caroline Baird Soules
February 15, 1926 - January 5, 2014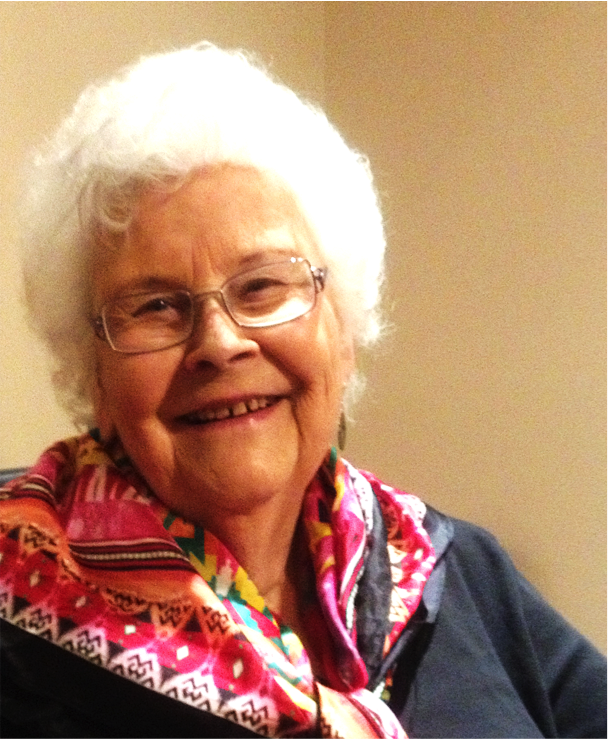 SOULES—Ardys Caroline Baird, 87.
Her six children sadly announce that our dear, devout, computer-mastering, clipping-mailing, travel-avid mother, Ardys Caroline Baird Soules, passed peacefully and unexpectedly away on January 5, 2014, in Chattanooga, after happily, not two weeks before, presiding over the large and festive annual family Chattanooga Christmas gathering. 
February 15, 2014: This would have been her 88th birthday.
Gathering for feast and gifts were not only her three in-the-area children, but seven of her 13 grandchildren and one of her two great-grandchildren.  All six of us, the remote three flying in from Amherst, Seattle, and Sapporo, were in Chattanooga for her memorial service on January 19th, at First Presbyterian Church.
Mother, the second of the three daughters of Earl and Merle Baird, was born and raised in Pasadena, CA.  Preceded in death by sister Janet Telling, she is survived by sister Nayda Wallace of Mill Creek, WA.
She and her husband, (upstate New Yorker) Frank Edward Soules, lived in Chattanooga from 1954 to 1957, when they were called to the mission field of Brazil. She returned to Chattanooga, after they'd served there for 17 years, alone, in 1986, after a brain tumor brought about our father's tragically early death.
Her autobiography, Heritage of Faithfulness  A Legacy of Love (2007), chronicles their ministry's cumulative success, achieved in the course of meeting the multiple challenges, while raising a growing family, of a new language and a new culture; and then of ministering, in the United States, to students from abroad, under the auspices of International Students, Inc., and how for the next nine years she continued this work on her own.
Enthusiastically taking global advantage of having far-flung family (Switzerland, Japan, Brazil, Canada); Christian colleagues (Portugal, Spain, France, Italy, Germany, and, in New York City at Hephzibah House, John and Lois Ewald); and former International students (Germany, Japan), she relished experiencing Lisbon, Madrid, Nice, Monaco, Milan, Zurich, Frankfurt, Mainz, Cologne, Pender Island, Salvador, Rio de Janeiro, Recife, Iguaçu Falls, Tokyo, and Sapporo.  Additionally, a cruise with her dear friend Therese Van Wickler (with whom, on her 1996 Alaska cruise, she completed the visiting of all 50 states) took her from Dover to Tallinn, St. Petersburg, Reykjavík, Helsinki, Stockholm, Copenhagen, and Oslo.  Her final excursion was a return to the Seattle area, in 2012, to see her sister Nayda and to be with Dale and his wife Janet on Mother's Day.
She is survived by her six children: Terrill (Foster) of Atlanta;  Dale (Janet) of Seattle; Randall (Virginia), of Chattanooga; Shelley Schmidt (Dieter) of Sapporo; Linda Soules, of Chattanooga; and Baird (Carol), of Holyoke; her 13 grandchildren: Athena and Addie and Hudson and Clay; Jason (Kimberly) and Nathaniel; Camila and Catarina; Andrea and Hannah and Rebekah (Kevin); Aaron (Lauren) and Jessica (Ben) and her 2 great-grandchildren: Alix and Evan. [ Photograph taken on December 22, 2013, by Athena Soules.]

Would you like to add a memory or condolences?
From February 15 to March 17, the New York Times is providing a
Guest Book, at Legacy.com,
for friends of Ardy Soules.
Or send a note to me, Terrill.